Here's why.
Bamboo is one of mother nature's wonder materials and is the premium material for underwear and loungewear.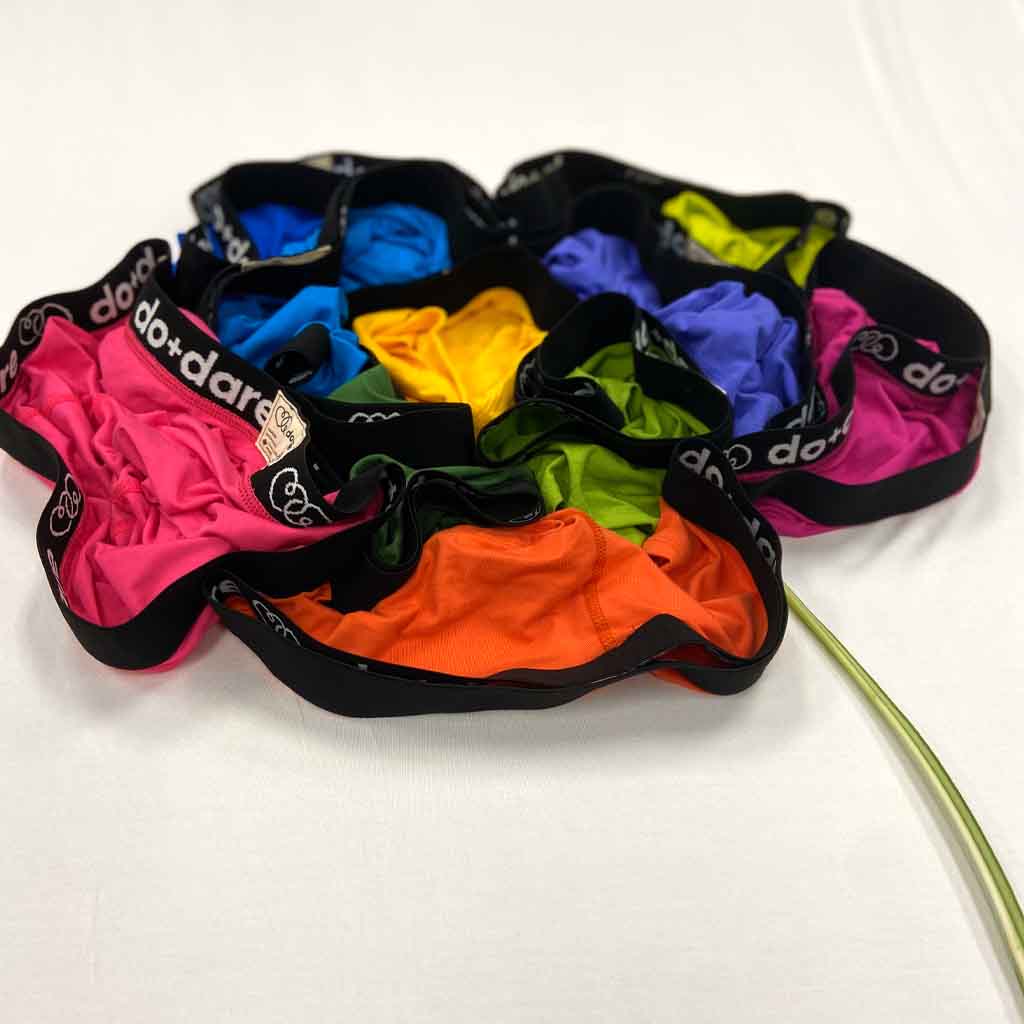 Luxuriously soft + comfortable.
Our bamboo fabric is so incredibly soft - much softer than cotton - it's likely even softer than your current favorite pair of underwear.
And our bamboo fabric includes just a hint of Spandex to help it hug all your curves, contours, and yes, that too. 🍆
Gentle on your bits.
Our bamboo fabric breathes. It wicks away moisture and dries quickly helping your parts stay cool and fresh.
Through real life experience and testing, we've found our bamboo to be stain + odor resistant, keeping you looking and feeling great.
Our bamboo also carries Oeko-Tex Standard 100 certification which means that it's been tested for harmful substances and is safe for human health - including up and close to your most sensitive bits.
Renewable + sustainable.
Bamboo is a wonder material. Here's just some of the things that makes bamboo so special.
It grows organically in natural soil without the need for any pesticides or chemicals.
It grows crazy fast - generally reaching full height in about 8 weeks, with some species growing up to ~900mm / 36" per day.
It renews itself once harvested, just like your lawn (it's part of the grass family).
It can grow on marginal land, and its root structure binds the soil, making it great for reforestation, reducing soil erosion, cleaning our air and climate change mitigation.
It's got uses in food, to kitchenware, to textiles, to construction and is important in many Asian cultures.
It's gaining popularity due to its sustainability + how quickly it can replenish, and can help us reduce our dependence on other tree sources.
How it's made.
Here's the high level on how do+dare's bamboo fabric is made.
Bamboo stalks are harvested from controlled crops, which regrow rapidly, negating the need to harvest naturally occurring fields.
The bamboo stalks are mechanically and chemically processed into a regenerated cellulose bamboo pulp, known as rayon of bamboo, which is then dried into sheets, sort of like paper.
The bamboo sheets are ground and milled into a soft, fluffy form and spun into yarn for knitting and weaving.
The rayon of bamboo yarn is blended with just a hint of Spandex to create the perfect bamboo-based fabric for underwear - luxuriously soft, incredibly stretchy + excellent durability.
Here's a little bit more:
Rayon is a semi-synthetic material. The feed is bamboo cellulose pulp from bamboo shoots, and the output is a more controlled cellulose pulp with advantageous properties, such as a softer feel, better durability, washability, + more vibrancy of colors.
do+dare's bamboo fabric is Oeko-Tex 100 certified meaning it has undergone extensive testing to prove it is manufactured in a way that does not pose risks to you, the environment or the people that are making it.
Thank you so much for being part of our journey. As a small thank you for taking the time to learn about us, take 5% off your order. Use coupon code "iheartdo+dare".
Shop our bestsellers
Uniquely yours. Sustainable. Ethical. Made in the USA + Canada.