Pickle Burger | Boyshort
Regular price

Sale price

$34.00
Who likes pickles in their burger? 🍔
Get this design on any color, just send us a message - we have lots to choose from! 🌈
Who says undies can't be sexy and functional all in one? These boyshorts are designed for booties on the move. Made with eco-friendly bamboo, they're super soft and comfy, with a fit that stays put. You'll feel free and easy in undies made for any activity, whether you're hitting the climbing wall or lounging around in nothing but these.
Underwear with benefits

🥰 You've got underwear with benefits!

Benefits to your day:
● No sensory overload — seamless full coverage gusset keeps your bits in place irritation-free.
● Keep your bits fresh — our bamboo-based fabric breathes, wicks away sweat, fights odors, is stain-resistant + quick-drying.
● Highlight your shape — ludicrously soft and stretchy, these undies are sexy!
● Hugs your curves — the 4-way stretch fabric keeps you comfy + moves with you.
● Go confidently — the sporty, no-roll waistband keeps them in place all day and won't roll or dig in.
● Support local — handcrafted in the USA + Canada.

Benefits to your bits:
● Supported + secure.
● Irritation-free.
● Breathable.
● Moisture-wicking.
● Low odor.
● Stain-resistant.

Benefits to the planet:
● Ditch the plastic - say no to nylon + polyester on your bits!
● Bamboo is a renewable resource, quickly replenished.
● It doesn't require fertilizers, pesticides, or chemicals to grow.
● A hectare of bamboo forest can absorb 12 tons of carbon dioxide.
● It produces 30% more oxygen than the same size hardwood forest.
● Bamboo will regenerate naturally without planting again.
Guarantee + returns

Try risk free! We are so happy you're here and it's really important to us that you're happy after your purchase too, so that you'll tell your friends just how awesome your new undies are.

So, if anything is wrong, just reach out to us. We'll do our best to make it right, even if that means giving you your money back.
Care guide

Care
do+dare underwear are made in the USA + Canada with the highest quality "ingredients". With a little love, expect them to stand the test of time - keeping their comfort, color and designs day after day, wash after wash.

 
Our fabrics are so vibrant that we suggest you do the first few washes with like colors.

Materials
● Fabric: 95% rayon of bamboo (cellulose made from natural bamboo), 5% spandex (Oeko-tex 100 certified)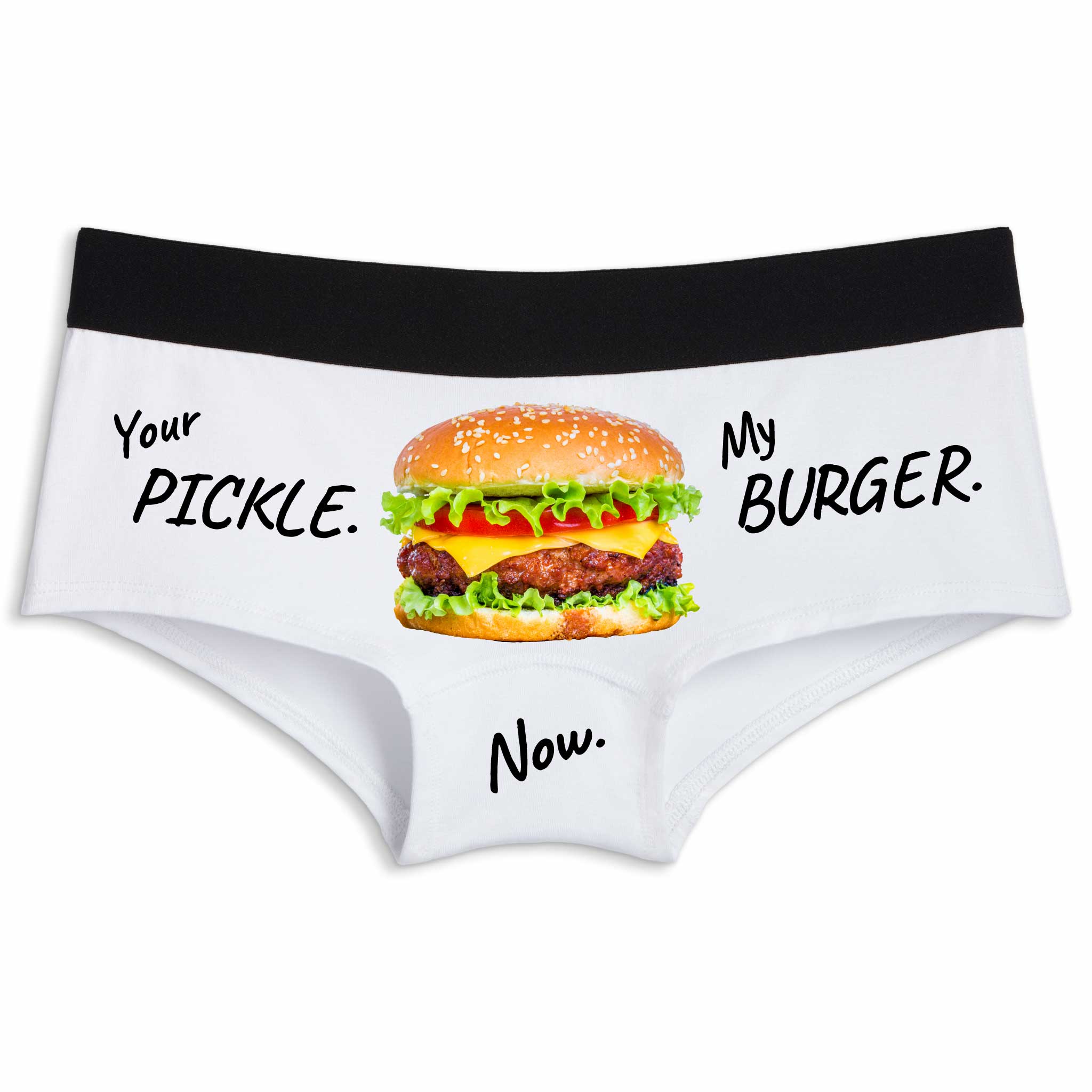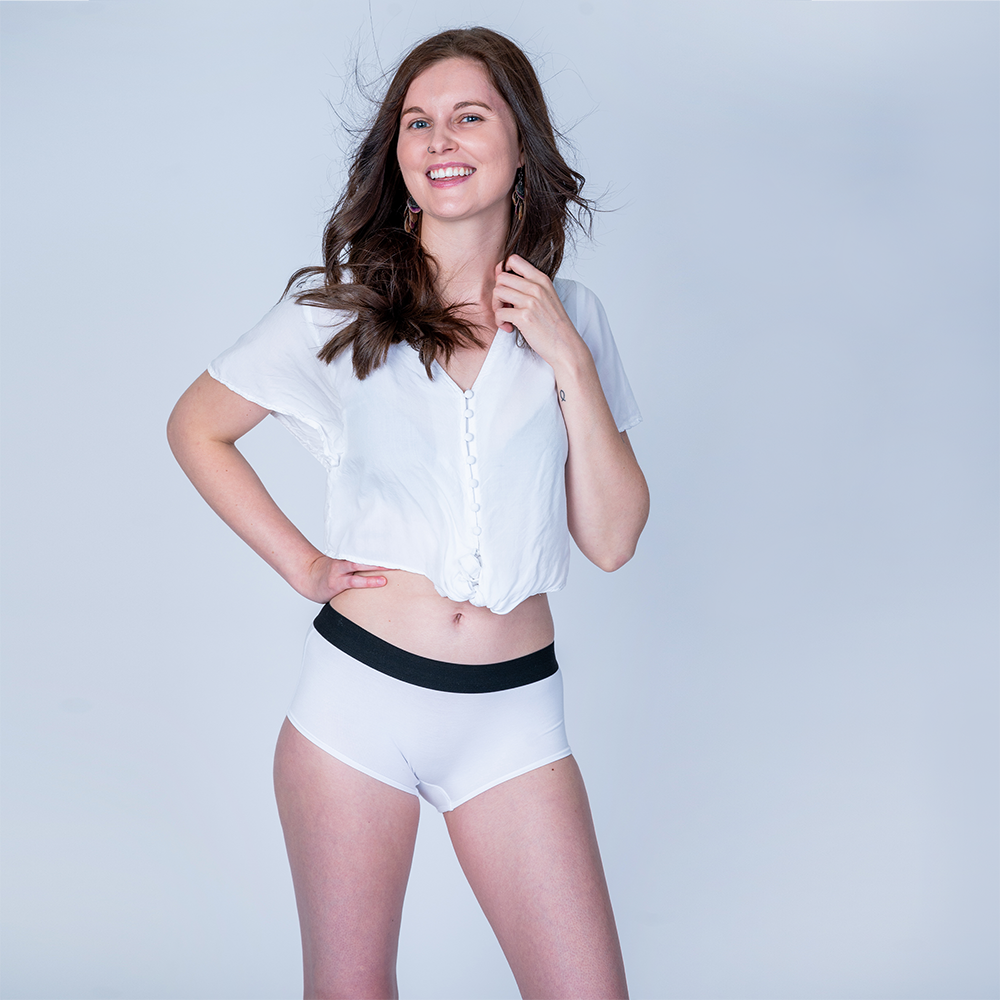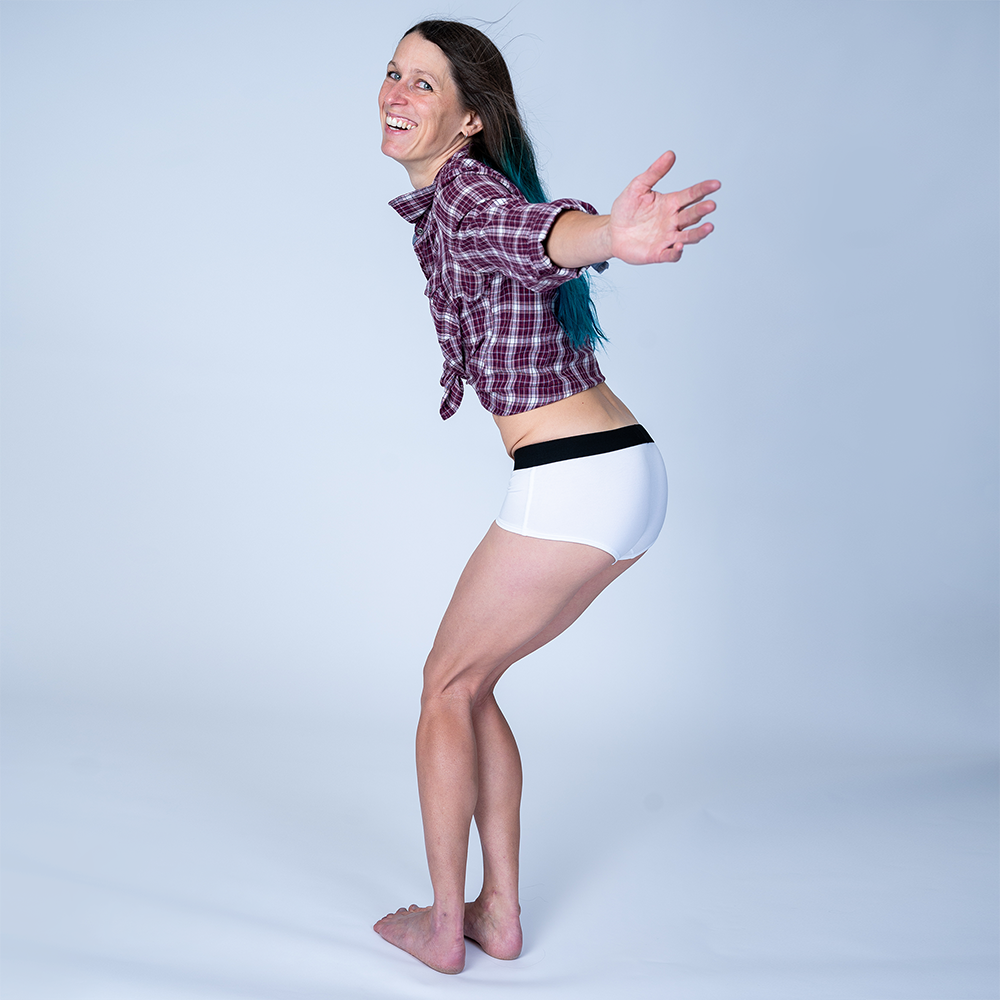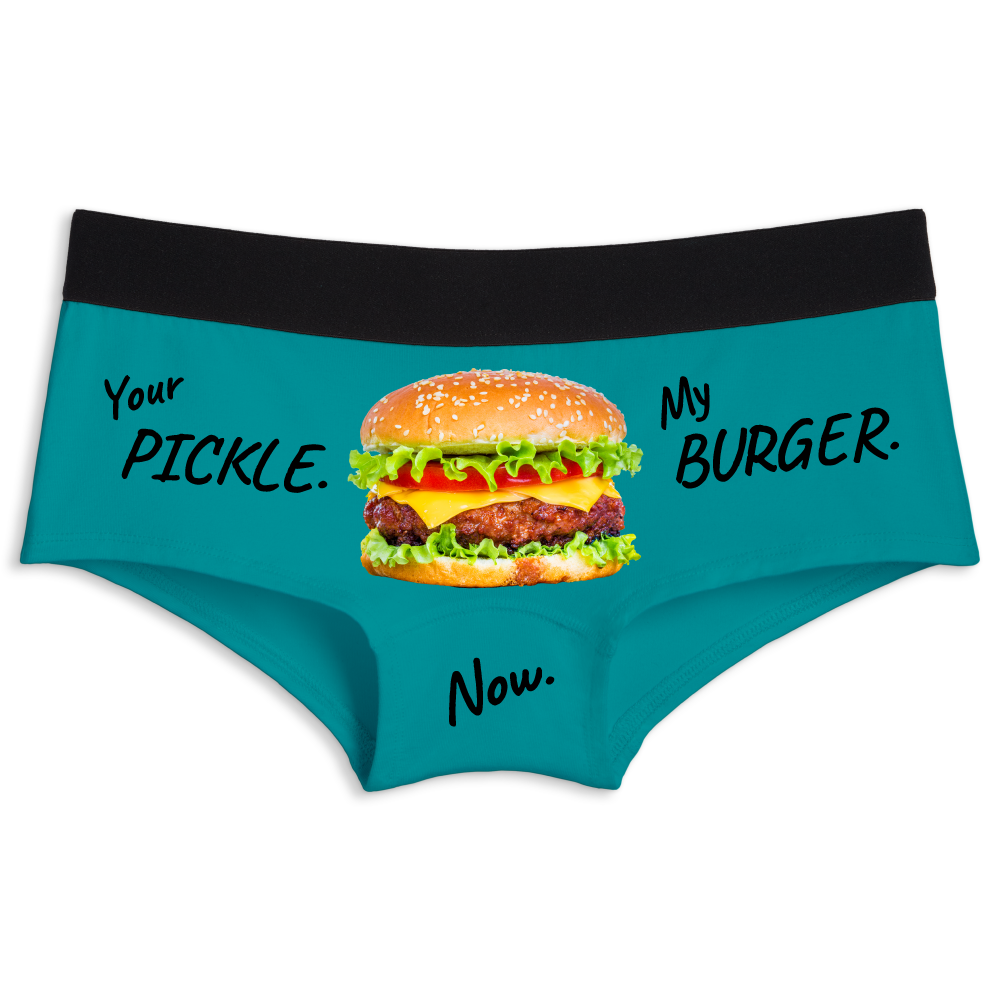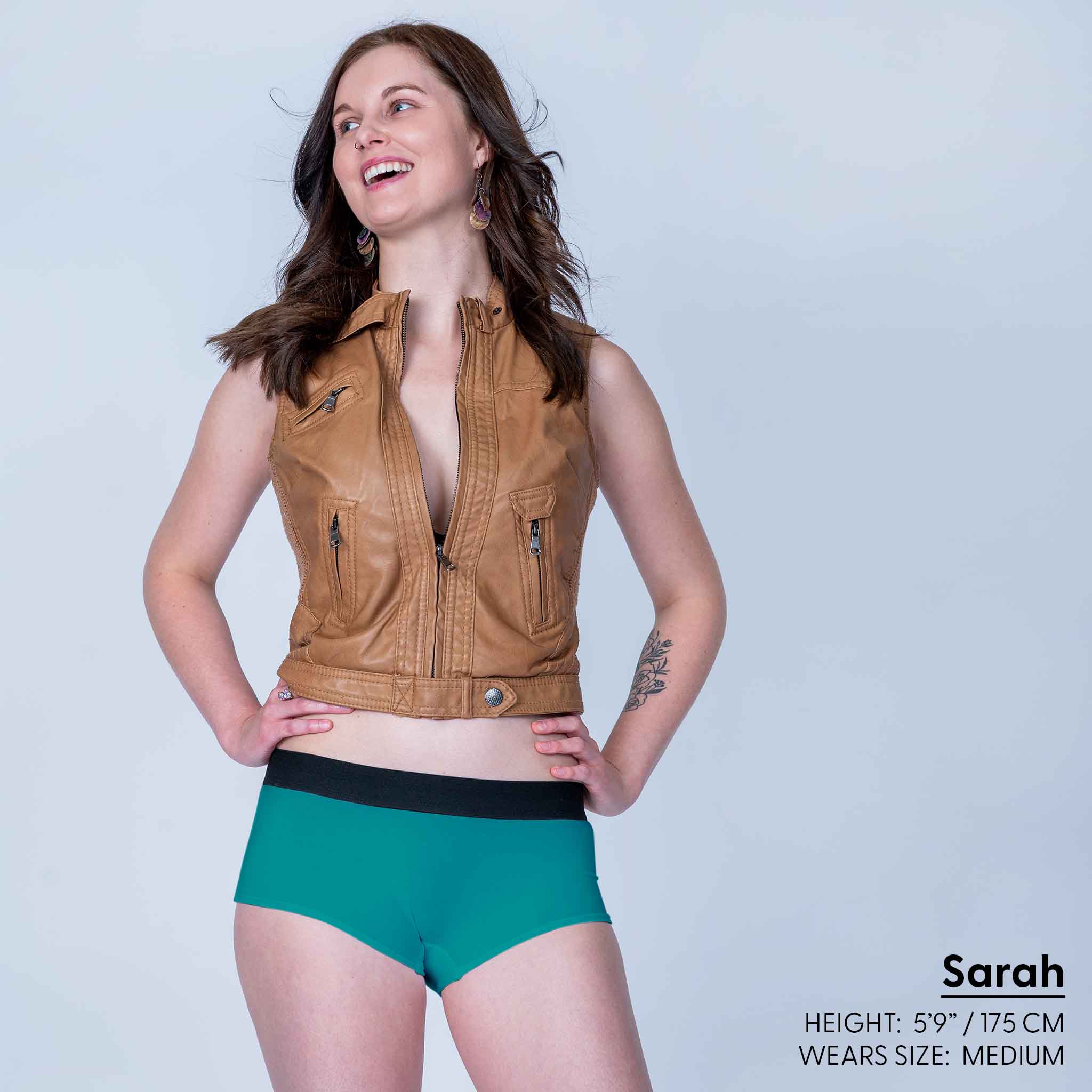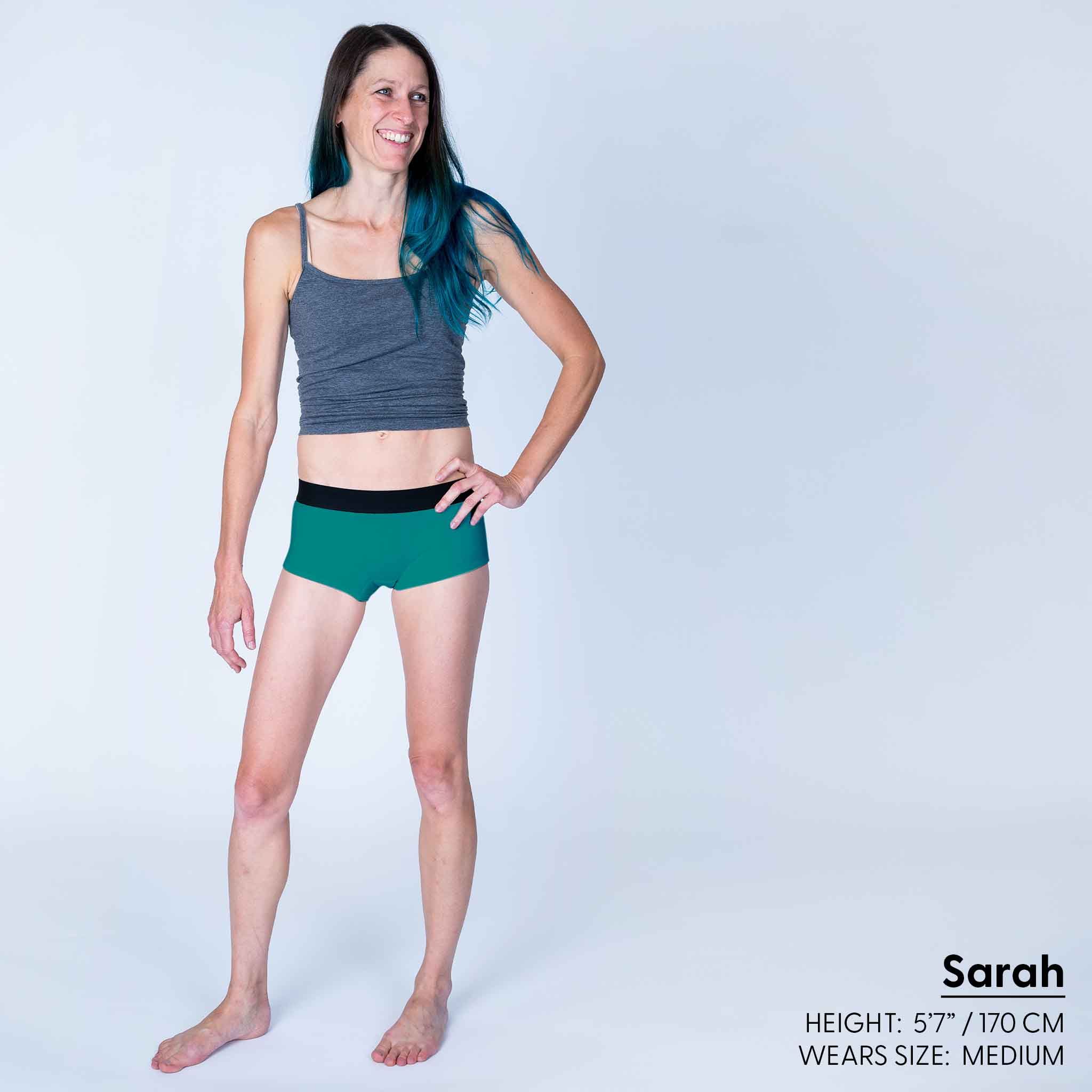 🎯 Get the right fit | Boyshort
Size (waist measurements):

● S: 26-27″ / 66-68.5 cm
● M: 28-29″ / 71-73.5 cm
● L: 30.5-32″ / 77.5-81 cm
● XL: 34-36″ / 86.5-91.5 cm
Fit:
● Sporty fit, with a solid waistband.
● Hugs your butt and stays put.
● Wide gusset keeps your bits in place.
● Low-rise waistband, 2-3 inches below belly button.

Not so much for:
● Those who want high-waisted undies.
Bamboo is a wonder material.
And is the premium fabric for underwear and loungewear.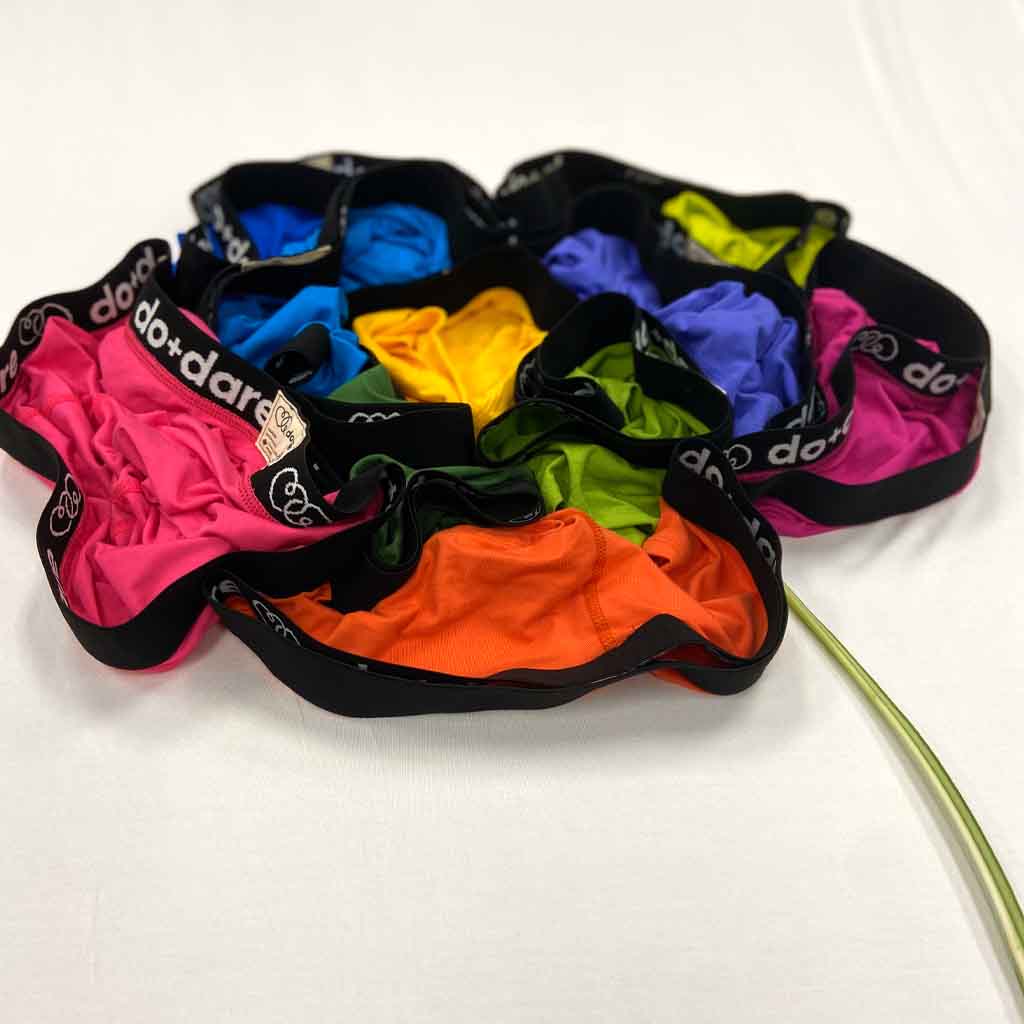 Luxuriously soft + comfortable.
Our bamboo fabric is so incredibly soft - much softer than cotton - it's likely even softer than your current favorite pair of underwear.
And our bamboo fabric includes just a hint of Spandex to help it hug all your curves, contours, and yes, that too. 🍆
Gentle on your bits.
Our bamboo fabric breathes. It wicks away moisture and dries quickly helping your parts stay cool and fresh.
Through real life experience and testing, we've found our bamboo to be stain + odor resistant, keeping you looking and feeling great.
Our bamboo also carries Oeko-Tex Standard 100 certification which means that it's been tested for harmful substances and is safe for human health - including up and close to your most sensitive bits.
Renewable + sustainable.
Here's just some of the things that makes bamboo so special.
It grows organically in natural soil without the need for any pesticides or chemicals.
It grows crazy fast - generally reaching full height in about 8 weeks.
It renews itself once harvested, just like your lawn.
It can grow on marginal land, and its root structure binds the soil, making it great for reforestation + reducing soil erosion.
Made here, for real.
Not just sold or designed here, actually manufactured here.
It's the right thing to do.
We manufacture as much as possible in the USA and Canada. Here's why:
It directly supports our local economies.
Workers earn a living wage, have protection of rights + work in safety.
We stand for a society with forward thinking human rights + equality.
We're able to innovate faster.
We want to be able to teach upcoming generations through experience.
All the parts of our underwear are better...
Highest quality parts.
Underwear can only be great if it's crafted from the best parts + with expert skill. Each pair of do+dare underwear is made with:
The finest eco-certified bamboo - it will hug your curves in luxury day in and out, wash after wash.
Our perfectly thick, 7-layer made in the USA waistband maintains its shape + won't roll or bunch up.
Canadian thread - durable enough to last, yet with flexible stitching so you can move freely.
Love from our female-led team of master seamstresses.
Zero-waste packaging.
The most fun way to get underwear. Meet an undie puck. What am I...?
I am underwear.
I am held together with a paperclip.
I have a coaster tail, joined with an elastic band.
I am all curled up tight, in the shape of a hockey puck.
I like to play games - tower building, frisbee, hockey, dodgeball, ...
I come undone if you poke me in the middle...
Common questions.
Why should I buy do+dare?

We're so proud of our products + our mission that we could spend all day telling you about why you should give them a go...

But here's three of the best reasons:

All our underwear are made from an eco-certified bamboo fabric - it's incredibly soft + stretchy, and is by far the best material to be touching your most sensitive parts. We've got 16 bold colors to suit your every mood and occasion. Learn more about why we use bamboo here.
Every component of our underwear, and all the labor that goes into them, are from the USA + Canada (our bamboo fabric is the exception - it's the only thing we import because we just can't get it here!). We work with incredible partners to bring you the best underwear you'll ever wear, and everything is crafted by people who are paid a fair wage and treated well. Learn more about our commitment to quality.
Our superpower is being able to personalize any side of the underwear with any art + any text. Customize your underwear and live life fully as you dare to be your true self. Or, do it for someone else and explore the makings of a special moment. Explore custom options here.

And if that's not all, we give back via 1% for the Planet and many more - an inspiring commitment to making the world around us a better place.
How does do+dare compare to the big brands?

We're fans of many of the big brands too, but there's lots of ways do+dare stands out. Here's some of our favorites:
How do they fit?

Amazing!! The longer answer is that they're super soft, breathe well to stay cool + conform really well to lots of body types.

Our Boxer briefs are just about guaranteed to be a universal hit. Our Boyshort + Cheeky styles are a sportier fit. Click on the links below to learn more.

● Boxer briefs
● Boyshort
● Cheeky

You don't need to take our word for it, though - read the hundreds of positive reviews from customers just like you.
How are they so comfy?

It's all in the details.

Making an incredible pair of underwear is about the sum of all the parts + the skill to bring it all together.

Parts

We scoured the world looking for the best bamboo fabric available. Not only is our bamboo super soft, it has incredible properties that make it the best material for being up close + personal to your most sensitve areas.

We use a made in the USA 7-layer, fully woven soft waistband that won't roll, stretch-out or dig in.

Our labels are a smooth natural cotton canvas + the threads that hold everything together are dyed and spun in Canada.

Skill

Our network of amazing partners throughout the USA + Canada help us bring it all together into the best underwear you'll ever wear.

We've built our own production process from the ground up. It's this technology that empowers you to express your true authentic self on bold underwear.

Read more about our quality here.
What about print quality? How do they wash?

Our print quality is unmatched, and we continue to push the limits.

It's taken two years of research + development to get to where we're at today. We've developed our own chemistry, our own robot to help with consistency + tuned our process for great prints every time. Learn more about our quality here.

Wash + wear your underwear over and over without worry - your print is there to stay. You can expect similar longevity to a printed t-shirt.

Check out our social media for some of our most recent prints.
What if I don't love them?

Try risk free. We are so happy you're here and it's really important to us that you're happy after your purchase too, so that you'll tell your friends just how awesome your new undies are.

If anything is wrong, just reach out to us any way you like. We promise do our best to make it right, even if that means giving you your money back.
Spice up your Sunday morning.
+++++
Our purpose is to empower you to be your true self and help you create meaningful moments of confidence, joy, connection + intimacy in your life and the lives of those around you.
Your feedback says it all.
Uniquely yours. Sustainable. Ethical. Made in the USA + Canada.